I know I have mentioned this book a few times already but if you haven't picked it up yet, you are truly missing out.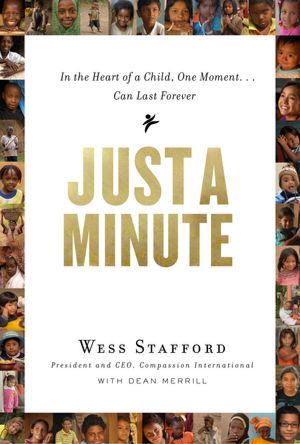 Just A Minute
, by Wess Stafford (with Dean Merrill), is filled with amazing stories of people whose lives were impacted by a few minutes given by another adult. Many of the stories are hopeful, joyful and heart tugging. Think Chicken Soup for the Soul for Christians and you get the jest of many of these stories.
It's the sad, awful and downright horrible moments that are shared that really impacted me though. Did you know Alfred Hitchcock's dad had him locked up in a jail at the age of 5 as a scared straight moment? Or how about a communist dictator (Yugoslavia's Tito) kicked out of church for dropping the wine in a church service?
The book also shares the stories of kids whose whole life was altered by the sometimes casual and insensitive remarks of the adults in their lives.
This book is a good reminder to guard our tongues and to look for ways to bless the children we come in contact with. I found myself wiping away tears one moment and laughing out loud the next.
Why not check out the website for
Just a Minute
and pick up a copy of the book while you are at it. Wess Stafford has asked that all of the author proceeds be given to Compassion International.
Being honest, I received a copy of this book free as it contains one of my "just a minute" stories. It doesn't change the review, the book truly is good.